Pools
Whether you're looking to create a beautiful backyard leisure or simply want a fun, healthier way to interact more with your family & friends, installing the perfect swimming pool in kamloops area is an exciting way to truly personalize your space.
Construction of Your New Pool
From initial site consultation to filling and starting your brand new swimming pool, Pleasure Pools Plus has got your swimming pool needs covered. We use only the best equipment,and materials, ensuring you years of trouble free enjoyment!
Our friendly staff in the showroom and in the field are knowledgeable and up to date in all aspects of pool construction and water chemistry for your convenience. Safe water care,with sparkling water. Better products do a better job. Its that simple. 
We offer a wide selection to meet your needs, space, and budget. Here are our Kamloops swimming pool options.
15′ x 17'6″ x 31'6″ Cozumel
2011 Keystone Award Winner
With 6′ Corner Stair and Badu Swim System
12′ x 24′ Kidney
With In-Wall Stairs and Grab Rail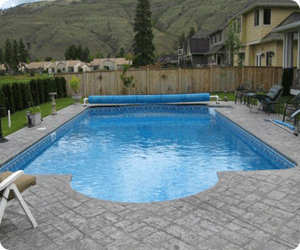 20′ x 40′ Roman
Featuring both 8′ in Wall Stairs and 6′ Walk in Steps
Double Shallow Ends
In-floor Vanquish Cleaning System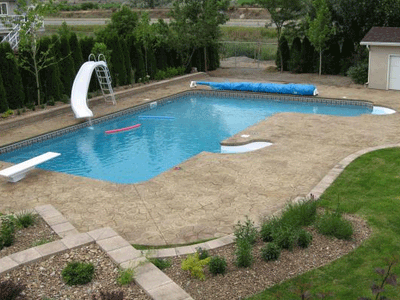 20′ x 42′ Full L
With 8′ Roman Stairs
4′ Contour Step
6′ Diving Board and Slide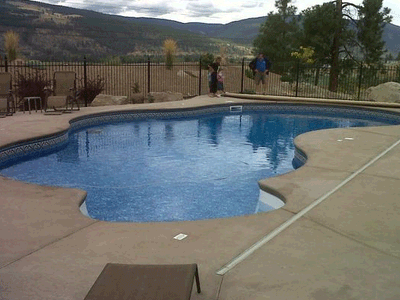 24′ x 44′ Mountain Lake
Featuring 6′ In-Wall Stairs
In-Deck Automatic Cover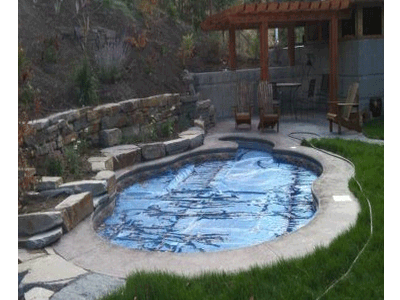 12′ x 14′ x 20'3″ Odyssey
With 4′ Contour Grey Step and UV System
Above Ground Pool Options
We also carry a full line of Vogue above ground pools. These and other perfect for Kamloops swimming pool options can be viewed at our Kamloops pool showroom.